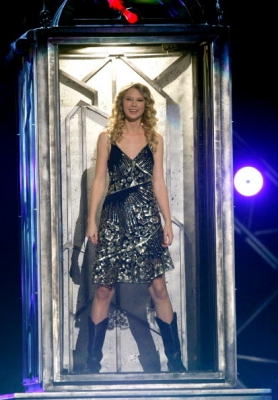 So I watched the ACM Awards last night and they were AWESOME! I was totally blown away by the "magic trick" that Taylor Swift did with David Copperfield, it was wickedly sweet. I also LOVED the Opening Medley she did with Brook & Dunn, Sugarland, Carrie Underwood, and Rascal Flatts. It was a total perfect opener. And her You're Not Sorry performance was excellent too. I was INCREDIBLY happy that she won the award for Album of the Year, she totally deserved it. Everyone's performance was smashing, except I didn't care to much for Miley Cyrus' The Climb performance, but I'm biased because I don't like her.
But anyways, congratulations to ALL of the winners there, they all totally deserved the awards.
I will now leave for Wal-Mart to buy some chocolate ice-cream. Peace out trout!